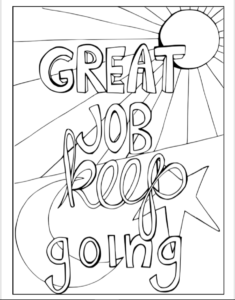 I've lived on the Columbus Marathon route for many years, and although I don't get out to cheer every year, it is something I enjoy doing. I believe by the time the runners are making their way past me, appropriately clothed with warm beverages and a chair, they have already run 21 miles.
I often hear people cheer "you're almost there!" In mile 22, "almost there" is still quite a few miles away. Although my career as a distance runner was short and slow, I feel that I owe the dedicated marathoners a little more than an "almost there."
Great Job, Keep Going
I do a lot of clapping, often the only person on my side of the street, right before a water station. But I also like to shout out for a runner to hear what I hope will help them to the finish. Great job (you've come this far, you've trained, you showed up, you are running the race), Keep Going (you still have a ways to go, but you can do it!).
There is no way to train for a pandemic. And there is no app for your phone that tells you where you should be at this moment. But you are doing it. You are doing what you can, making do, and hopefully making memories. But we still have a little ways to go.
I made this coloring page to hang in your window to cheer for your friends and neighbors, and maybe even a little positive self talk for myself.
Great Job, Keep Going!