I had quite the time coming up with a name for this blog post. I wanted to update you on some of my new projects I am working on in 2018, but nothing clever was coming to mind.
Simply put I am stretching beyond my comfort zone of yarn crafts this year. I am taking a break from selling my hand made items. I am still making, as I enjoy this activity immensely. But the truth is I am running out of space, my selling does not keep up with my making, and I just do not have the room for my inventory. I am struggling with what I may do with what I have made already, but for the time being things have been sorted, packed into Rubbermaid bins, and put into storage.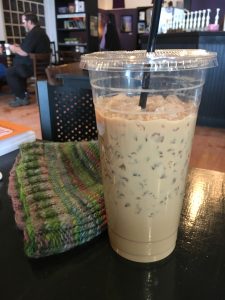 You may ask, what am I doing with my time? Well that is what I wanted to share with you. At the end of 2017 I had a list of things I wanted to accomplish as soon as the holidays were over and the new year began. My health did not cooperate, so I did not really start on these new endeavors until last week. It was exciting to start new projects and get caught up on unfinished things.
I've spent a large part of my time over the last week at a favorite coffee shop in my neighborhood. Perhaps the best part about the last week was getting permission from the headache specialist to drink caffeine again. I had weened myself off my regular caffeinated beverages in October on the suggestion of a neurologist to determine what affect they may have had on my chronic migraine. After seeing no change I am once again enjoying my iced lattes. However I am trying to keep them to a minimum. Drinking tea or other beverages so that my first instinct in the morning is not reaching for the high octane stuff.
I have been working on a variety of things while at the coffee shop. First, I signed up for a 3 month trial on Skillshare . For $.99 I have access to all available courses. I was excited to jump into this at the beginning of last week. Today I finished "5 Secrets to Develop a Blogging (and Writing) Habit." The first part of this class was to develop a habit of free writing. I was able to spend 15 minutes writing each day. I will now begin to develop topics from my free writing into well thought out and polished blog posts. Look out for future posts on migraine triggers, pacing with chronic illness, and some other thoughts from my daily life and projects I have been developing.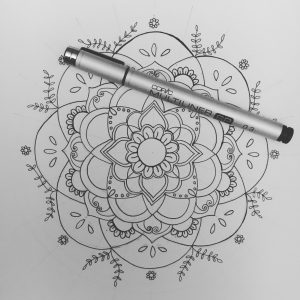 The second goal I had for the beginning of 2018 was to illustrate a mandala coloring book. Last May I began a project of drawing 100 mandalas in a sketch book and received many compliments and inquiries about if I would publish a coloring book. So I knew that I wanted to do this, but I wasn't exactly sure how to go about it. Cue another Skillshare class that I finished last week on "Coloring Book Basics." The course walked me through developing ideas, then digitizing the work, and designing a layout for print. These few simple tips allowed me to learn A LOT about what I needed to do for my coloring book. I now how 3 pages ready to be scanned into my computer and finalized for printing. Many more pages to do for sure, but it was such a rush to learn new things and actually see something I had been wanting to do become a reality.
Those are just two of the new projects I am working on for 2018. There are other things that are already in the works that I am keeping to myself for now, but will share with you in the future.
Are you learning anything new this year? I'd love to hear about it.