To the Administration, Faculty, Staff, Students, Alumni, and Supporters of the Methodist Theological School in Ohio:
Today I saw one of my dreams realized.
When I started attending MTSO in the Spring of 2006, I quickly fell in love with the community. It's very rare to find yourself sudden support system and immediate cheerleaders. When I became a student at the Methodist Theological School in Ohio that happened.
As a work study student in the admissions office, I was always proud to show off our beautiful campus. I enjoyed recruiting new students at off campus events, and I still point to MTSO as a place to earn a quality theological education.
My passions while attending school consisted of camp ministries, the environment, food and faith, and getting other people interested in these topics. I read blogs and books, participated in online and offline discussions, and I interned at nearby Stratford Ecological Center to gather more experience in the physical aspects of these subjects. My husband Ryan and I lived in Kleist Manor and as I gazed over the well manicured field outside my front door I'd imagine vegetables, fruits, flowers, and maybe a goat or two, I really like goats.
As part of the student community I pushed for a community garden, encouraged more active recycling, and even had a compost bin outside of our back door. I wasn't necessarily successful at any of the environmental endeavors that I attempted to involve the campus with. I wasn't really skilled in organization, and had no idea how to obtain funding, but I was enthusiastic. I'd like to think my enthusiasm for such things was contagious.
My theological education came to an end when I contracted pneumonia and whooping cough which resulted in hospitalization and a series of health complications over the next several years. I can not express my gratitude and appreciation for the faculty and staff of MTSO during this time. I got e-mails, cards, and visits during my recuperation. Eventually life went on. I moved from campus, to the Grandview Heights neighborhood of Columbus and recovered my health while Ryan finished his PhD.
Then, not too long ago, I started hearing rumblings of something big happening. But could it be true, an actual farm on the campus of the Methodist Theological School in Ohio?! What happened next was much larger than the few row of vegetables Ryan and I grew as campus residents (you can see that harvest here.)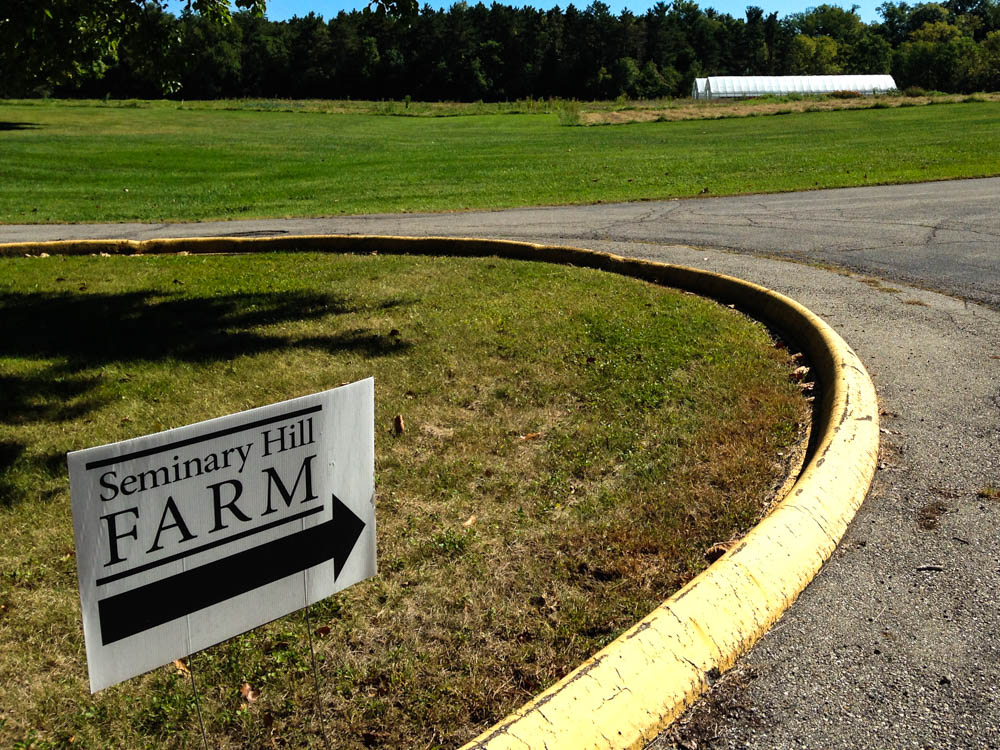 I started seeing Facebook posts and Dispatch (the Columbus newspaper) articles. And I was happy.
I was also a bit sad. Sad that I couldn't be a part of it. Sad that with all of the enthusiasm in the world I wasn't physically capable of being a part of it, not yet anyways. I hesitated to visit campus, and on the occasion that I did visit Molly in Admissions during my visits to Delaware, I didn't go up the hill to see the happenings.
But today, today the sky was blue, I was feeling fantastic, and happened to be in the area. I thought to myself, "Let's take a look."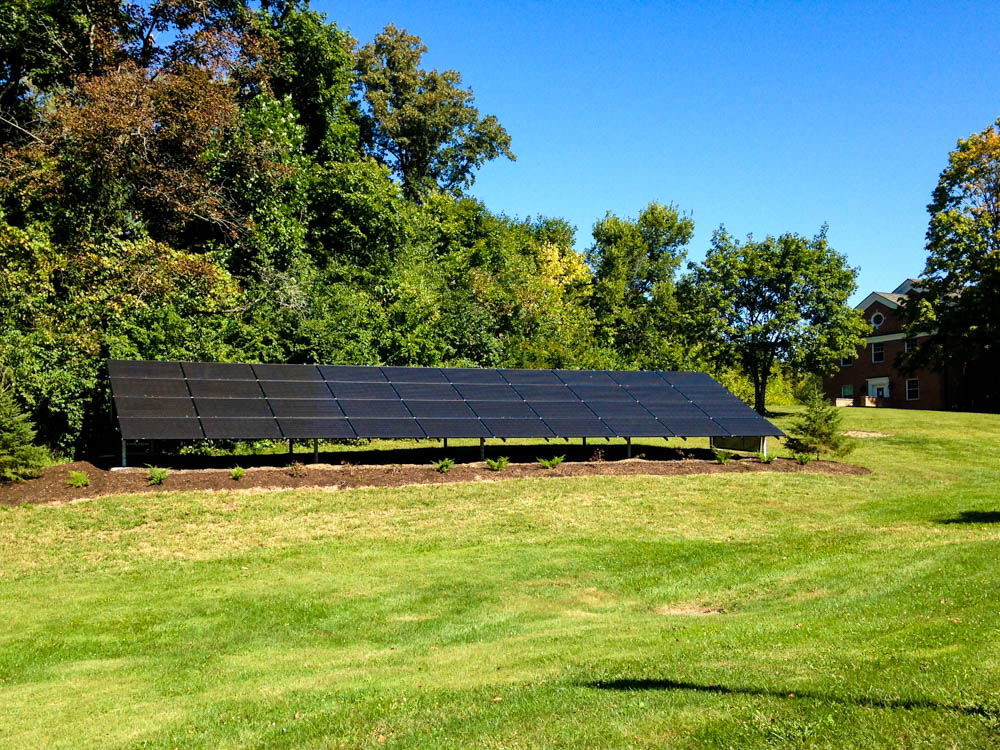 I parked next to admissions to see if Molly was around, but because of my timing and other appointments I had today, it happened to be lunch time. But it was hard to resist a walk around campus. As I approached the hill this is the first thing I noticed. WHOA! My heart soared at the sight of solar panels, even just small amounts of alternative and renewable energy is awesome, and they were soaking it up today.
Campus was SO QUIET and the sky was SO BEAUTIFUL I was immediately happy that I decided to stop by. Because of the lunch hour no one was around to give me a tour of the farm, but I'm kind of glad for the opportunity to observe in silence. If I would have had to maintain conversation I'm not sure I would have been able to keep the tears that threatened my eyes at bay. There were some tears of sadness and frustration of not being a part of it, but they were mostly tears of joy. Happiness for the students who are getting to participate in this amazing movement of food justice, sustainability, and environmental theology.
Because of the season many of the plots and rows laid dormant, while some plants were just reaching their end of production. But I can see in my mind this field at it's peak season, giving abundantly to the community. I can also imagine how refreshing food from the hoop houses are going to taste during the cold days of the off season.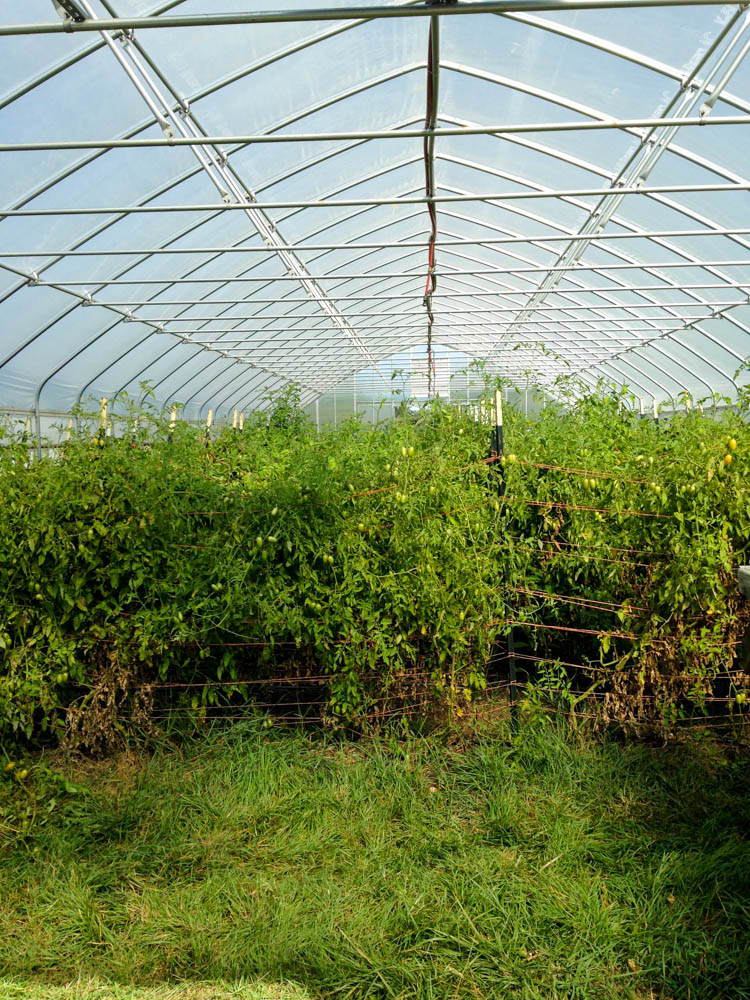 It took me a long time to reconcile my sudden life changes after my life changing illness and leaving the MTSO community. I went through the stages of grief and began to build a new life and new dreams. But today was good, to see Seminary Hill Farm and the community that formed it thriving.
Thank you for that and so much more.
Sincerely,
Chrissy Joy Bell
Former Student
To learn more about Seminary Hill Farm and MTSO follow the link here.