I have become so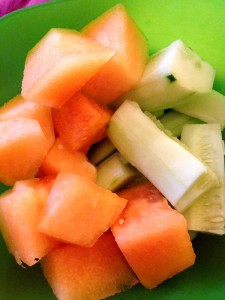 use to sharing my life on social media that the blogging has fallen by the way side (see yesterday's post). But something that I love and need to share in more detail with you is how awesome fresh and locally grown food is!
We have been blessed with gifts of fruits and veggies this year. Last week we enjoyed a delicious seedless orange watermelon from a co-worker of Ryan's. We also have been eating beans, cucumbers, zucchini, and purple potatoes from the Bell family garden back in Pennsylvania. I'm sure in the fall when my in-laws visit again they will bring some more late harvest items such as sweet potatoes and squash.
On Saturday, Ryan headed down to the Grandview Heights Farmer's Market and brought back corn, yellow tomatoes, zucchini, and cucumbers. It was nice to spend some time in the kitchen together as we prepared some of these fresh foods for freezing. As apartment dwellers we do not really have the space for canning, but we purchased a small chest freezer a long time ago to hold meats and other frozen foods that our tiny
refrigerator can not.
Earlier in the week we had cooked up some string beans for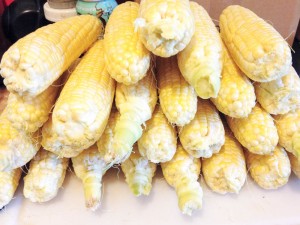 dinner and blanched the rest for freezing. Blanching is the process of quickly submersing the veggies in boiling water and then into ice cold water to stop the cooking. Then we put the beans in freezer bags and into the freezer so we will have some summer freshness to eat this coming winter.
We also cooked up some corn, cutting the kernels off the cob and freezing that in bags as well. Ryan pointed out that our parents have two different processes for cutting the corn, and we both prefer the way our respective families do so. He came up with a hybrid method that gave us full kernels, but also somewhat of a cream corn substance that will be perfect in soups this winter. We also ate our fill of corn right off the cob while it was still super fresh.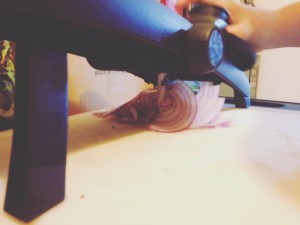 Over the last 7 or so years as I have been dealing with adjusting to life with a chronic illness, Ryan has been doing most of the cooking. Up until that point we shared a lot of the tasks. His skills have improved vastly from the nights of Hamburger Helper we enjoyed in our first years of marriage.
Now that my health is cooperating and I feel well more than I feel horrendous I've been itching to get back in the kitchen. One kitchen gadget we have acquired recently has been a mandolin for slicing. I wanted to learn to use this without the dangers of cutting myself attempting to figure out the blade settings. Since we had the luxury of Ryan being home this weekend he took the opportunity to show me how it works.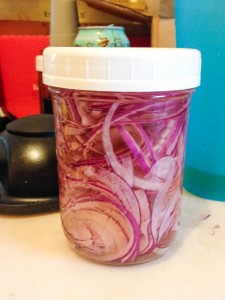 My mom introduced us to a super easy and quick way to make picked onions a few years ago from the blog of Cooper Boone. Ryan makes them and we eat them on burgers, salads, and anything else you could think of. While I like these onions, I also wanted to learn to use the mandolin to make zucchini and cucumber "noodles". My Pinterest food board is full of recipes that I'm just waiting to try. We've tried one recipe already with Ryan doing the cutting and it was fantastic.
After a few swipes of the onion I got the hang ofthings and I feel confident that I will be able to chose my blade settings with ease and no cuts when the time comes. Now the onions will sit at room temperature until we are ready to eat them and the vinegar mixture will be a bright pink! PS. Since we don't do any actually caning we love these reusable lids for our mason jars. You can find them wherever you buy jars. They are easy to clean and so convenient. We store a lot of thing in wide mouth pint jars.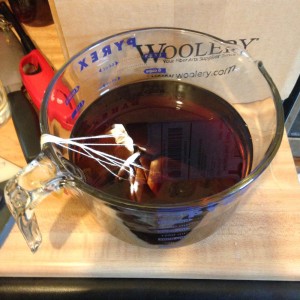 One last favorite thing of summer. Although I drink it year around nothing compares to a fresh glass of iced tea on a hot summer day. I simply boil water and steep several (7-9) teabags. When it's sat for some time I add ice to a glass and pour. With the remaining tea I add water to the pitcher and store it in the fridge for later. Everyone has their own preference for how strong their tea is, so experiment for yourself.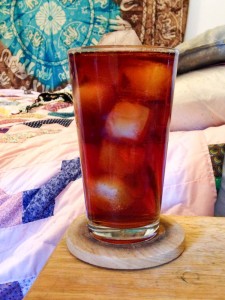 Not only does summer bring fresh fruits and vegetables and refreshing beverages, but fairs and bizarres with their fried foods and greasy goodness. These aren't really items I get to enjoy since going gluten free, but I'm sure my body thanks me for it. So I'd like to know, what are your favorite summer time foods and what's on your plate this season?