I am once again spinning with my friends on Team Nevermore for the companion event to the Tour de France, the Tour de Fleece. I first wrote about this event back in 2013. Last year I did not participate as I was recovering from a terrible summer cold and accompanying sinus infection. The team itself are folks that I keep in contact year around.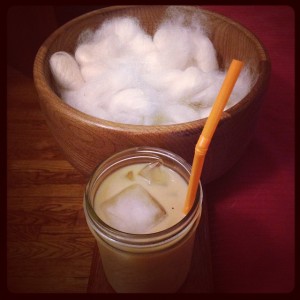 As a quick refresher and for those of you who don't know, the Tour de Fleece is an event taken on by spinners around the world during the Tour de France. When I talk about spinners I don't mean the kind that ride stationary bikes, but those folks who make yarn by hand. The guidelines are simple, spin yarn every day that the riders are riding the Tour de France. Teams and groups have challenges and prizes throughout the race.
Today is the first rest day for both spinners and riders. So I figure it would be a good day to show you how my spinning has been going. I've been enjoying my days drinking iced coffee and spinning some of the softest Alpaca fibers. I am also attempting to clear up my "stash" as it's called. Spinning all of the various fibers I have tucked away and taking up space in my apartment.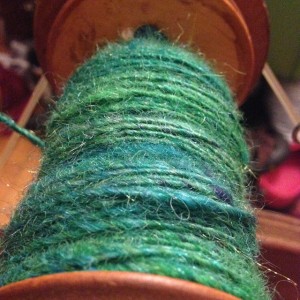 I prepared for the tour by picking my fiber, which means I removed the various debris and vegetable matter that gathers in a sheep or alpaca fleece before it is sheared. I then hand carded them in rolags to prepare them for spinning. I also blended some fibers together for one of a kind skeins of yarn.
There will be a challenge day, the day that the bikers will climb 5 mountains, July 23rd. I have not decided what I will do for that day, but it will consist of challenging myself with a new technique or a different kind of fiber.
Along with spinning I'm also doing the day to day work of running a craft business. I have to admit that at the moment I'm in a rut, stuck in limbo as Ryan finishes his PhD and applies for jobs. Uncertain about the future I'm not really sure where I want to go with my business. I have no events planned, and am just focusing on custom orders and updating my Etsy shop with new items. Very shortly it will be time to list fall and winter items and I plan on getting ahead this year instead of waiting until the last minute.
I've been planning some blog posts and series, and now that my several week Fibromyalgia flare has ended, I hope to get some of those posted. So keep an eye out and I hope to write to you again soon.