It's Monday, the last thing on your mind is the weekend. Or maybe it's the first thing on your mind. Working for the weekend. This coming weekend is even a HOLIDAY weekend and many of you will have an extra day. Please take time to remember those who have gone before us this Memorial Day. But before that, I want to encourage you to have a weekend.
If you work a 5 day, 9-5 job you might already say "I always have a weekend." And maybe you do. But when was the last time you took time to enjoy the things you appreciate in life. Especially this time of year I'm sure a lot of you are focused on getting the garden planted, working on landscaping, or refinishing the deck. And these can be things that you enjoy, but from my Twitter and Facebook feeds they also seem to be obligations, hassles, and another day of work.
For those of you who own a business, are freelancers, and are creatives,work happens when it needs to be done. You might need to meet a Monday deadline, or you are vending at any number of festivals and fairs that common throughout the spring and summer.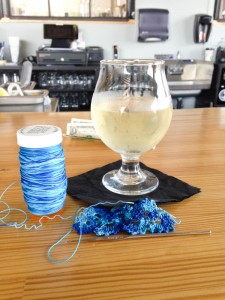 Before time gets away from us I want to encourage you to have a weekend. Take time to plan activities you enjoy, or plan nothing at all. This isn't possible every weekend, I realize that. But it's amazing how just two days of carefree living can re-energize you for the work week ahead.
Things have been hectic in the house of the Woobie lately. I had my first vending event of the year on the 9th along with several orders for growler bags at various breweries and tap rooms. I had hoped to have everything finished up to spend a few days with a college friend while Ryan worked on writing his dissertation. However, I got an ear infection in both ears and decided travel wasn't going to happen. With some antibiotics and rest I was feeling much better by Friday. An added bonus was I had finished all my pending orders. My next event was a month away so I decided it was time for a weekend.
When I'm not vending I still often find myself working on my shop, and fulfilling orders throughout the weekend. On Friday I decided once everything was wrapped up for the weekend I wasn't going to do anything I didn't want to for two days. I didn't say I wasn't going to do work, because I often find myself working on small projects for my shop, or spinning yarn that will often get sold or turned into a finished item.
I began Friday by delivering some grower bags to Lineage Brewing and stayed for some beverages. With Ryan working in his lab for an undetermined amount of time I had Friday to myself. I enjoyed some Mad Moon cider, did a little tiny crocheting, and read a bit. I also chatted with the folks sitting next to me. I met a lovely lady who was working on her Columbus Ale Trail and some guys who were just out having a good night. I chatted the guys' ears off, remember most of the time I sit at home with the cat. So I either ruined their evening or made it awesome. I'd like to think I made it awesome.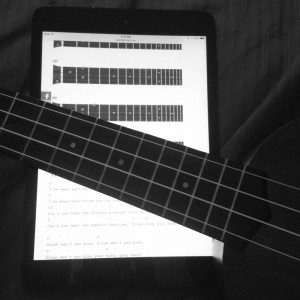 When I got home I spent some time with Beatrice my ukulele. I have absolutely loved this instrument. I purchased it 2 weeks ago at The Guitar House Workshop in Grandview. I love shopping local, they were just a skip away from my apartment, and they were super nice. They showed me the different options available and didn't pressure me to go outside my budget. Since then I have played her everyday. I definitely find relaxation in it, and it's a non-crafting hobby which I haven't had in awhile. I've always loved music and was pretty heavily involved in all things band in high school, but since then other things have taken priority. I'm excited about this and hope to join a ukulele club soon.

Saturday morning I slept in and then spent the day doing nothing more than picking and carding alpaca fiber. Although this can be considered work it's something I WANTED to do, and I had the time to sit and do it at length, which gave me optimum productivity. Sunday I woke up and it was sunny and beautiful, I took my wheel out onto the fire escape to spin the fiber I had prepared the day before. When it threatened rain I gathered things up and brought them inside. Then I was so bored, but I was determined to do something I enjoyed. After visiting Ryan at work I walked to the Winking Lizard which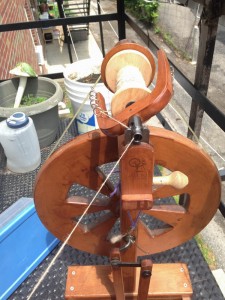 is the closest establishment to our apartment and a place that sees a lot of our hard earned money. I enjoyed a cider, their complimentary popcorn, and watched the Cincinnati Reds lose. But it was a good game and I thoroughly enjoyed myself.
Sunday night is always take and bake pizza night so dinner was delicious as always, and I spent the rest of the evening relaxing with the iPad while Ryan once again headed to the lab to write…again. I went to bed early satisfied of a weekend well spent.
It is now Monday and I am recharged for the week ahead. On the agenda is finishing a book I've been reading about handmade business, taking pre-orders of my crochet rainbow necklaces, and working on my inventory for my next event with will be Park Street Festival on June 13.