This week my friends over at Drink Up Columbus  pulled together a list of all the places here in Central Ohio that one can get a growler filled with delicious craft beer.  It's a list they update every year, and it keeps growing.  It seems we like our beer here in Central Ohio.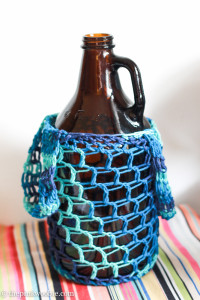 If you aren't into the craft beer scene you may not know what a growler is.  A growler is simply a reusable glass or sometimes ceramic jug that is filled with beer from the tap.  Growlers most commonly come in 64 ounce size, but "half" or 32 ounce growlers are also popular.  They are usually an amber color to prevent light from affecting the beer inside, but there are also clear growlers.  When sealed tightly growlers will keep beer fresh for several days, but once open it is best to drink it quickly.
Handles on growlers are usually small, requiring a one or two finger carry.  When a person is filling up for a party or a back yard bar-b-que multiple growlers are usually necessary.  I however in my vast knowledge of craft beer and their various holding vessels have come up with the perfect solution to this carrying conundrum.
Enter the crocheted cotton growler bag.  I've written about them here before, but never at such exciting length.  I've been crocheting farmer's market type bags for years, one night after drinking some delicious craft beer I thought, "hey, I wonder if I could make one to hold a growler."  And so I did.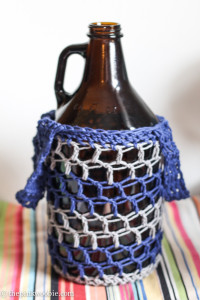 Crocheted cotton growler bags come in a variety of colors, including a few football team colors folks in Central Ohio may be interested in.   They fit snuggly around the growler with two handles for easy carrying, including the ability to carry two growlers in one hand!  When you get to your destination, whether it be your own place or a party, the crocheted cotton growler bag can be put right into the ice chest.  The cotton dries easily once your growler is empty.
If nothing else, the growler bag has improved our lives, as we live within walking distance of some great places to get a delicious craft beer fill.  In fact, I bet you live pretty close to one yourself.  Which is why you should check out that list I mentioned earlier.
Currently there are two tap rooms in Central Ohio where you can buy this great innovation.  The Ohio Tap Room and Zauber Brewing Company both in the Grandview area.  I hope to have them available in more locations by Christmas.  You can also purchase crocheted cotton growler bags in my Etsy Shop, contact me for local delivery details.   And finally this Saturday June 14th I will be vending at Digfest in the Grandview Yard from 4-10:30 pm.  I will be selling some other awesome beverage related crocheted items that evening as well.
So the question remains, after purchasing a crocheted cotton growler bag, where will you fill your growler?